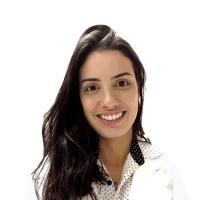 Dr Lara Carvalho obtained her medical degree (MD) from the Federal University of the State of Rio de Janeiro (UNIRIO), Brazil, in 2014. Subsequently, she undertook specialty training in Dermatology at the Fluminense Federal University, Brazil.
In 2018, after finishing her Dermatology training, she was successfully approved in the examinations to become a Board-Certified Dermatologist of the Brazilian Society of Dermatology. In the same year, she also successfully passed the European Board Examination in Dermatology and Venereology.
Her profound interest has led her to pursue international immersion experiences such as, an Observership in General Dermatology at Royal Prince Alfred Hospital (University of Sydney), in 2017; a Fellowship in Advanced Dermatology, Mohs Surgery, Laser and Cosmetic Dermatology at the Greater Miami Skin & Laser Center at Mount Sinai Medical Center (Florida International University and University of Miami), and an Observership in Pediatric Dermatology at Seattle Children's Hospital, in 2018.
Moreover, she became an International Fellow Member of the American Academy of Dermatology in 2019.
She worked as a dermatologist in five clinics in Florianopolis, Brazil, and obtained recommendation letters from all of them.
She has always been passionate about Dermatology since her third-year clerkship in medical school, becoming involved in campaigns and projects related to skin cancers and other dermatological diseases. She was approved for a teaching scholarship in Dermatology in 2013 and presented several posters in conferences. She also became a Member of the Academic League of Dermatology of UNIRIO in 2013. She has contributed to some publications in journals and her final assessment in medical school, "Alopecia Areata: bibliographical review and case report", achieved the highest score, with honors.
She continues to find new ways to learn as much as she can in Dermatology. She is currently working closely with Professor Sinclair as a Dermatology Fellow and aspires to become an expert in hair disorders.
Qualifications
MD - School of Medicine and Surgery / Federal University of the State of Rio de Janeiro (2014)
Board Certified in Dermatology – Brazilian Society of Dermatology (2018)
Approved in the European Board Examination in Dermatology and Venereology (2018)
International Fellow Member of the American Academy of Dermatology (2019)
Specialties
General dermatology
Hair and scalp disorders
Atopic dermatitis
Accreditations & Memberships