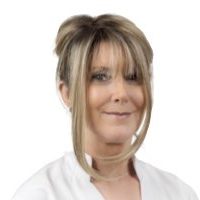 Kay is a qualified hairdresser and trichologist specialising in hair and scalp conditions offering camouflage techniques. She has something to suit anyone no matter how severe their hair loss condition is. Kay has worked with Professor Sinclair since 2013 and has a passion and commitment for hairdressing, trichology, camouflage, wigs, hair pieces and products.
Kay is always researching new and effective products, wedding out the ineffective ones. Her aim is to give clients instant relief with camouflage, so they can go back to their everyday lives feeling more confident about themselves.
She works closely with the doctors and provides aftercare after consultation. It can be overwhelming for new patients taking in all the new information and as a qualified Trichologist, Kay provides additional support to patients by clarifying any further questions they may have after their diagnosis, detailing complimentary options available and walks them through our centre and facilities. Her approach is all about making patients feel safe and supported.
Her goal is to unite dermatologists, trichologists and hairdressers to truly make a difference to everyone's lives who are suffering from hair and scalp conditions.
Qualifications
Hairdressing, BIBA Academy MELBOURNE
Trichology, International Association of Trichologists (IAT), ADELAIDE
Wig making, Kryolan Louise Ranaldi, MELBOURNE
Specialties
Trichology
Hairdressing
Hair camouflage
Wig & hairpiece alterations
Product specialist
Educator
Accreditations & Memberships