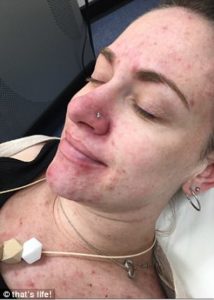 We're so proud that one of Sinclair Dermatology patients has been featured in the Daily Mail and That's Life! Our Dermal Clinician, Natalie Song (BHsc-DT) has helped heal 32 years old Sarah Boyd's pregnancy acne.
When Sarah found out she was pregnant, she was thrilled. Fit and healthy, Sarah was looking forward to experiencing a pregnancy glow. But this didn't happen! At the 3-month mark, Sarah's face became greasy. But at the 6-month pregnancy mark, Sarah's skin problems got worse when bright red acne and spots formed on her chin and forehead.
Sarah wasn't sure what was going on until her midwife told her that she had developed pregnancy acne – a skin condition caused by the increase of progesterone in the body. Just when Sarah thought her skin condition couldn't get any worse it did. Her pregnancy acne started to spread to her chest and back.
Normally confident and outgoing, Sarah's pregnancy acne made her feel insecure and sad. With a positive attitude, Sarah expected that once she gave birth, her pregnancy acne would go away. But it got even worse!
Sarah should have enjoyed having her photo taken with her newborn son and husband. But she hated it. Her cheeks had developed red bumps that felt painful and looked terrible. Sarah's skin became so inflamed that she just wanted to hide. If she did get her photo taken, she would try to disguise her acne by posing at side angles or being in shadows.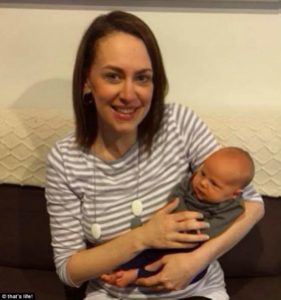 Sick of hiding from the world and feeling sad, Sarah decided enough was enough. She had to get some help for her pregnancy acne so decided to see Sinclair Dermatology Dermal Clinician Natalie Song. Sarah's pregnancy acne solution was with a treatment called Kleresca www.kleresca.com.au/
A gel was applied to her skin twice a week for a 6-week period. With the gel on her face, Sarah would sit in our clinic with a high intensity light device on her face for 9-minutes. Our Kleresca pregnancy acne treatment destroys acne-producing bacteria to give skin an opportunity to heal.
While the best Kleresca acne treatment results happen at the 12-week mark, Sarah is noticing constant skin improvements five months on. So how does Sarah feel now when a camera or phone comes out for photos? She's happy, confident and ready to smile.
If you are suffering from pregnancy acne? Contact us here to find out how we can help your confidence increase as your skin health improves with treatment.