The art of body contouring
Many of our patients find, no matter their diet and exercise regimes, they just can't lose that stubborn layer of fat. SculpSure is a breakthrough in non-invasive body contouring designed to precisely treat problem areas such as your tummy, love handles, back and thighs in just 25 minutes – with no downtime.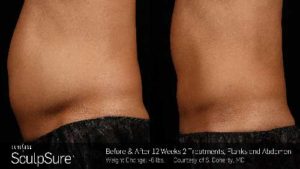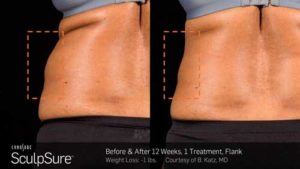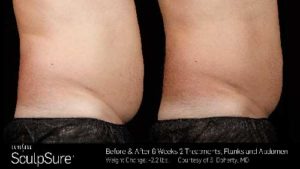 The 25-minute SculpSure treatment destroys up to 24% of treated fat cells without surgery and is ideal for people with trouble fat spots that can be particularly resistant to diet and exercise. With no downtime, you can have the treatment during your lunch break and return to work immediately. After your SculpSure treatment, the destroyed fat cells will leave your body and never return so you achieve permanent fat reduction.

This clinically proven hyperthermic laser technology:
Works on all skin types
Treats non-pinchable and pinchable fat areas
Is a comfortable and well tolerated treatment
Customizable to suit all body sizes and shapes
Has over 90% patient satisfaction
Does not damage the surrounding tissue
25 minute treatment time
No downtime
What can I expect?
During the SculpSure treatment, most patients report feeling a tingling sensation intermittently which is generally well tolerated. Many patients start seeing results as early as 6 weeks following treatment as the body begins to eliminate the destroyed fat cells. Optimal results are usually seen at 12 weeks. While many patients see positive results with as little as one treatment, depending on your desired results, you may wish to have additional treatments.
How does it differ to weight loss?
Throughout adult life, the number of fat cells stored in our bodies typically remains constant. If you lose weight through diet and exercise, the size of fat cells become smaller, but typically will not decrease in number. After your SculpSure treatment, the destroyed fat cells will naturally be eliminated by the body and never return.
With the help of SculpSure, a slimmer, more sculpted body is possible. Look great, feel great!
To schedule your FREE SculpSure consultation contact us on (03) 9654 2646.