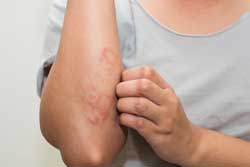 Sinclair dermatology is currently recruiting for 2 eczema studies:
1) Paediatric eczema (Mild to moderate eczema) – Age group 3 months to 24 months.
2) Adolescents and adult eczema (moderate to severe eczema) – Age group 12 years and older.
For more information, please see the attached flyers and complete the following eligibility questionnaire.
Information about the paediatrics eczema trial